A national society for the descendants of saints.
Resources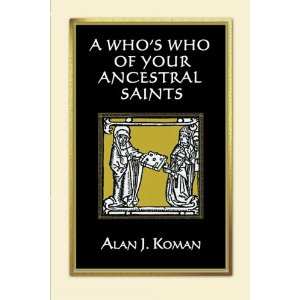 For anyone interested in his or her own genealogical links to medieval Europe, this book offers an extraordinary opportunity. For the first time, the lives of 275 early European saints are retold and accompanied by lineages connecting those saints to twenty-four of the great men and women of medieval Europe (see below for a list of saints). Today, those twenty-four men and women have hundreds of millions of living descendants. Anyone living today who can connect to these medieval personages can claim forefathers among the princes of the earth as well as ancestors among the princes of Heaven. (Readers can consult any of the standard works on colonial American genealogy to help make the connection.) 
The historical period covered by this work is vast. From St. Gregory "the Illuminator" (b. 256 – d.326) to St. Thomas, 2nd Earl of Lancaster (b. ca 1277 – d. 22 March 1322), the saints presented in this book span ten centuries. On earth, some were great men, such as Alfred "the Great," Bernard of Clairvaux, and Charlemagne. Others, such as Elizabeth of Hungary, Marie of Brabant, and Odilia, led lives that are just as moving today as in their own time.
Genealogical Publishing Company is pleased to offer this reference:  http://www.genealogical.com/products/A%20Whos%20Who%20of%20Your%20Ancestral%20Saints/3260.html
ALSO:
Douglas Richardson, Magna Carta Ancestry: A Study in Colonial and Medieval Families (4 vols., newly revised and enlarged, 2011)
Douglas Richardson, Plantagenet Ancestry: A Study in Colonial and Medieval Families (3 vols., newly revised and enlarged, 2011)
Gary Boyd Roberts, Royal Descents of 600 Immigrants to the American Colonies or the United States (2004 and 2008 editions)
Patricia Ann Scherzinger, Colonial Americans of Royal and Noble Descent: Alleged, Proven and Disproven
Frederick Lewis Weis, Ancestral Roots of Certain American Colonists Who Came to America before 1700 (7th and 8th editions)